Our history
Founded in 1976, Ivyline has dedicated itself to making functional products beautiful, bringing elements of luxury to your home and garden.
Our ethical product range is designed with love in our UK studio and comprises everything from fire pits and candles to planters, plant pots and everything in between.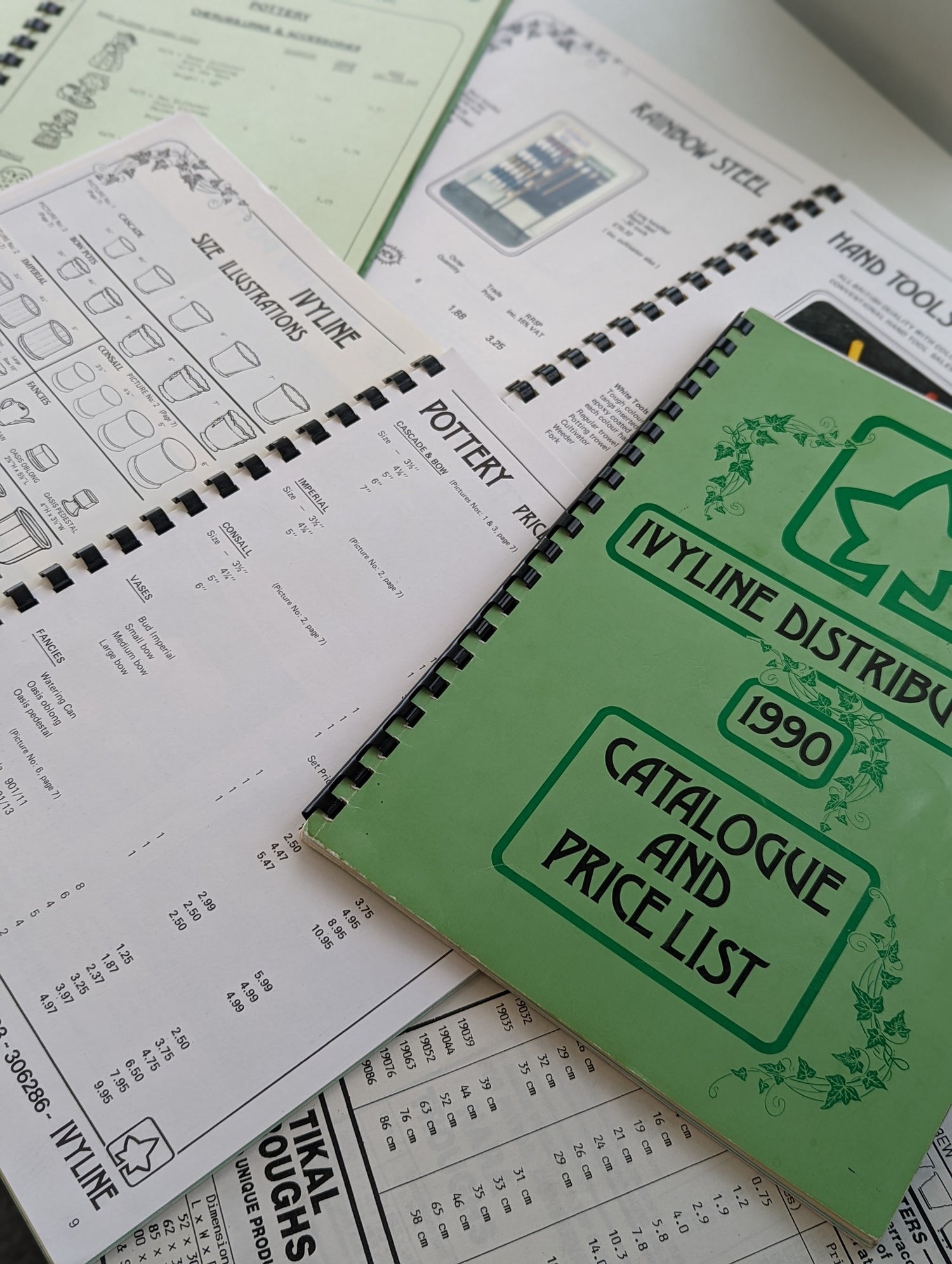 A home for design
Since 1976, Ivyline has made a home for design, staying ahead of the curve in quality, ethical standards and service to every single one of our worldwide customers. Our products are designed with love, in our UK studio, specifically with our mission to provide our customers with quality and not only inspirational but ethical lifestyle products.

Over our 40+ years our personal relationships with the factory owners has allowed us to forge an unbreakable bond ensuring from the very first step to the last we stay true to our values of honesty, loyalty and integrity – Ivyline cares for you the whole way.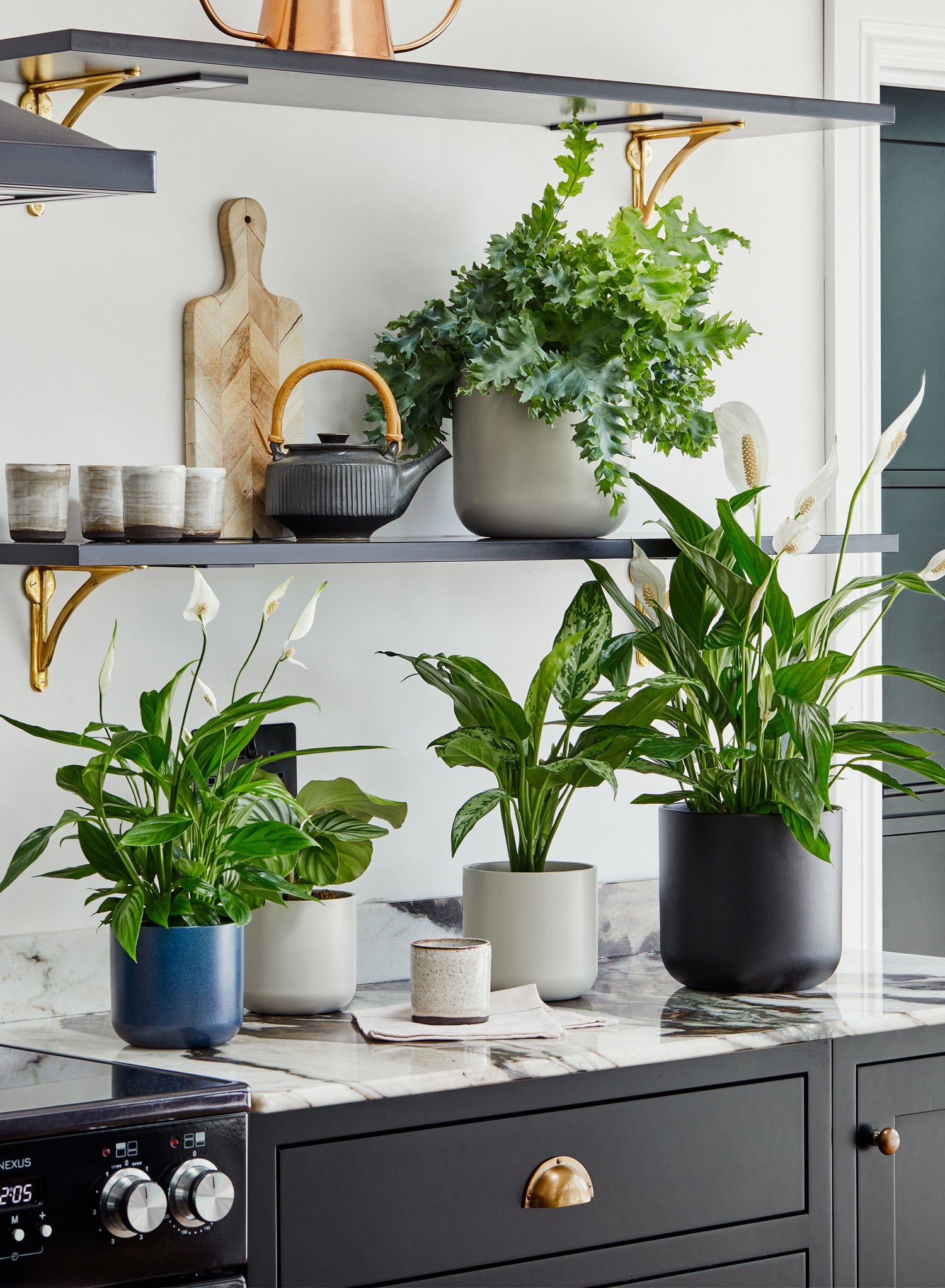 Our history
Spanning over four decades, our company history means we've established strong relationships with many audited factories and supply chains from around the world. As a result, we're a go-to brand for retailers and customers direct looking to capture their imaginations with high-quality, on-trend and sustainable products that stand out from the crowd.

1976 Ivyline was founded by Humphrey Thomas and his brother Randal in 1976 from the family home. The name Ivyline, now considered top in the industry, was inspired by the founding location of the business - Ivy Bridge Road. Initially selling garden accessories the success of the business meant that Ivyline's offering quickly grew to include indoor plant pots, small garden animals, garden tools and sundries, all driven by the fact that gardening had become an extension of the home.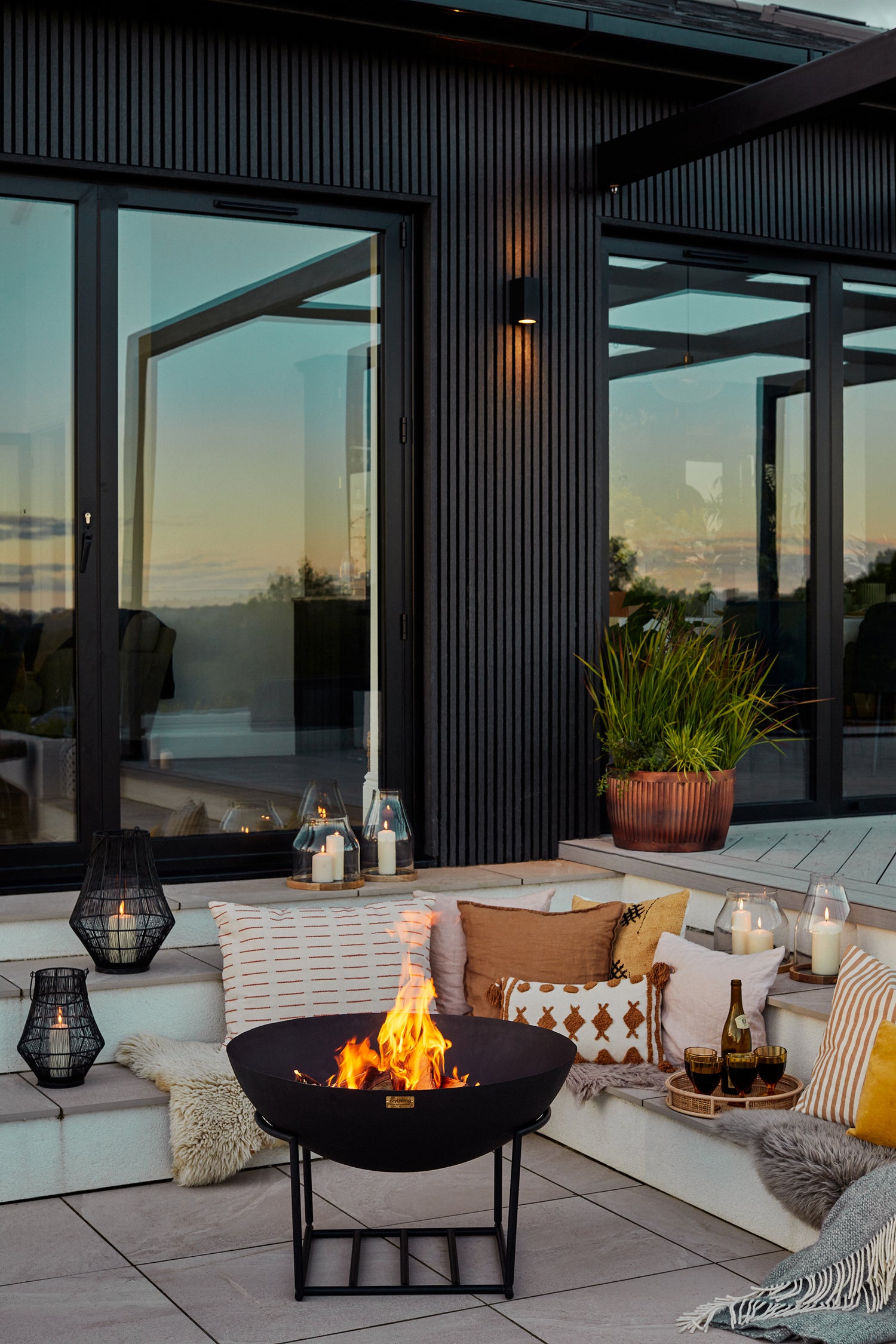 1997 By 1997 sales were taking off and Ivyline setup and staffed a dedicated sales team. At the same time the small garden animal section of the business was sold on to allow Ivyline to focus more fully on what customers were increasingly looking for.
2000 In the year 2000, Humphrey's son Scott Thomas joined the business as Managing Director. It was also at this time that Ivyline customers were increasingly responding to more inspirational product design and so Ivyline began designing products with industry leading design concepts. This would be the beginning of Ivyline becoming a force within industry for aspirational design led products.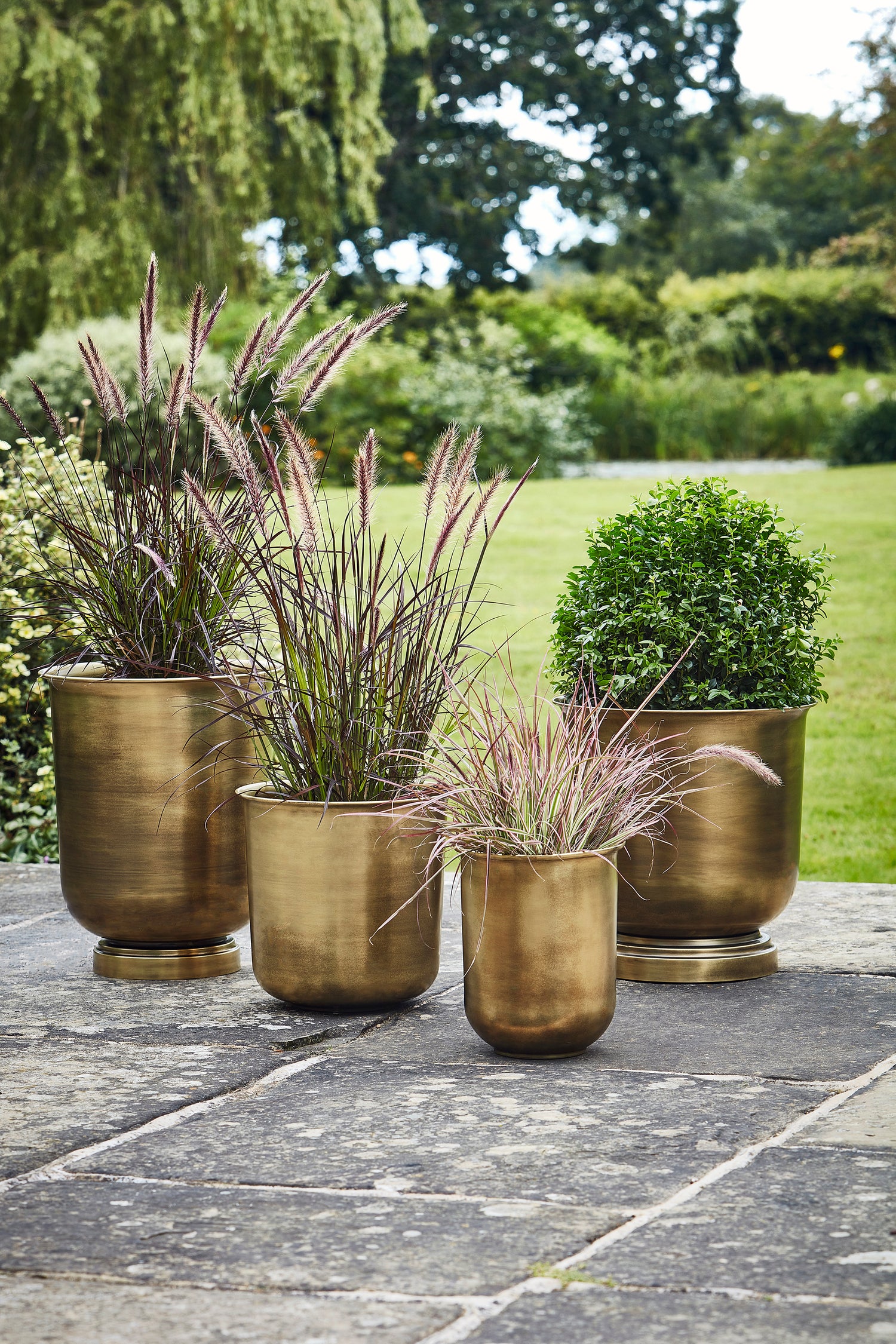 2014 Growth continued to accelerate with Ivyline bringing their aspirational design led concepts to new areas such as fire bowls and planters. Until now Ivyline distributed mainly through garden centres, however, 2014 saw Ivyline begin to look beyond this and deliver their own brand products. From this desire to become a multi channel design led company came a partnership with John Lewis driven by the shared respect and dedication for sustainable and ethical production. Today Ivyline values deeply its strong relationships with its many retailers and garden centres.

2017 2017 saw Ivyline bring all marketing in house. This allowed Ivyline to anticipate trends to a greater degree, and, combined with always listening to customers, conceptualise and design products truly shaped by these understandings.
2021 Due to our customer's loyalty & support over our 40 year history, Ivyline launch our new, bespoke direct to consumer e-commerce store. Stocked with all of the same fantastic products (and with plenty more to come), our new store will allow us to support and connect with our customers in ever more ways.

In 2021 we also update our brand to ensure that as we evolve as a company we help convey this to our customers. The new Ivyline brand is an evolution, allowing our customers to continue to recognise and associate with the quality and values we stand for. The bold and definitive Ivyline wording has been refined but is maintained as the main link to our history. Whilst softened, we've also maintained the dark and confident primary colour which clearly stands out on many of our products as a mark of quality. The addition of our new leaf mark brings in a complimentary secondary brand colour.

A symbol of the company's ethos and product line the ivy leaf strikes a careful balance between traditional and modern, organic and linear (as well as a subtle nod to the Union Jack and Ivyline's heritage). Standing apart from the predominantly text-based competitor logos our new brand helps Ivyline exude the friendly, nature-inspired ethos you have come to know us for.

Ivyline looks forward to many years continuing to excite and inspire our customers.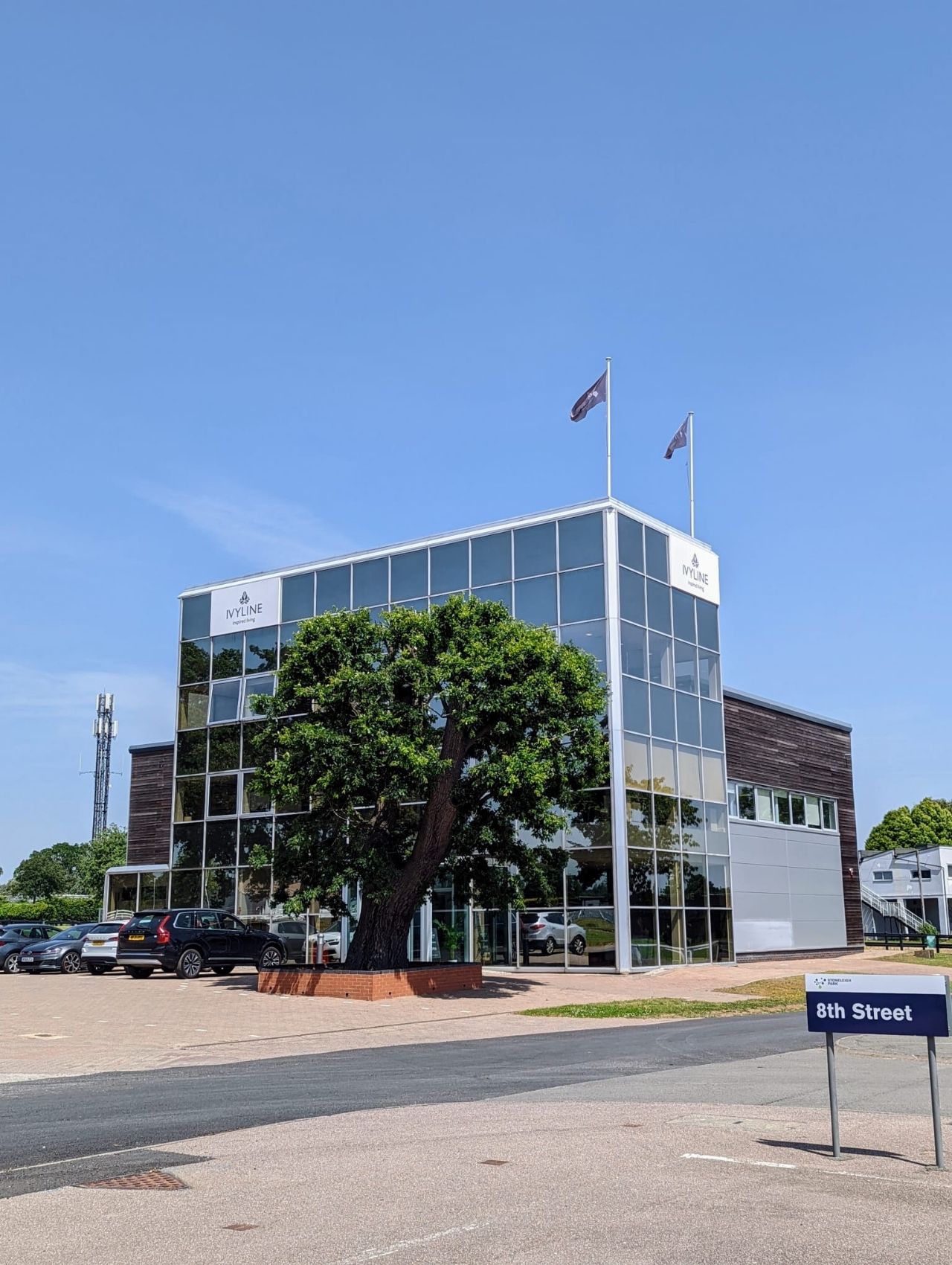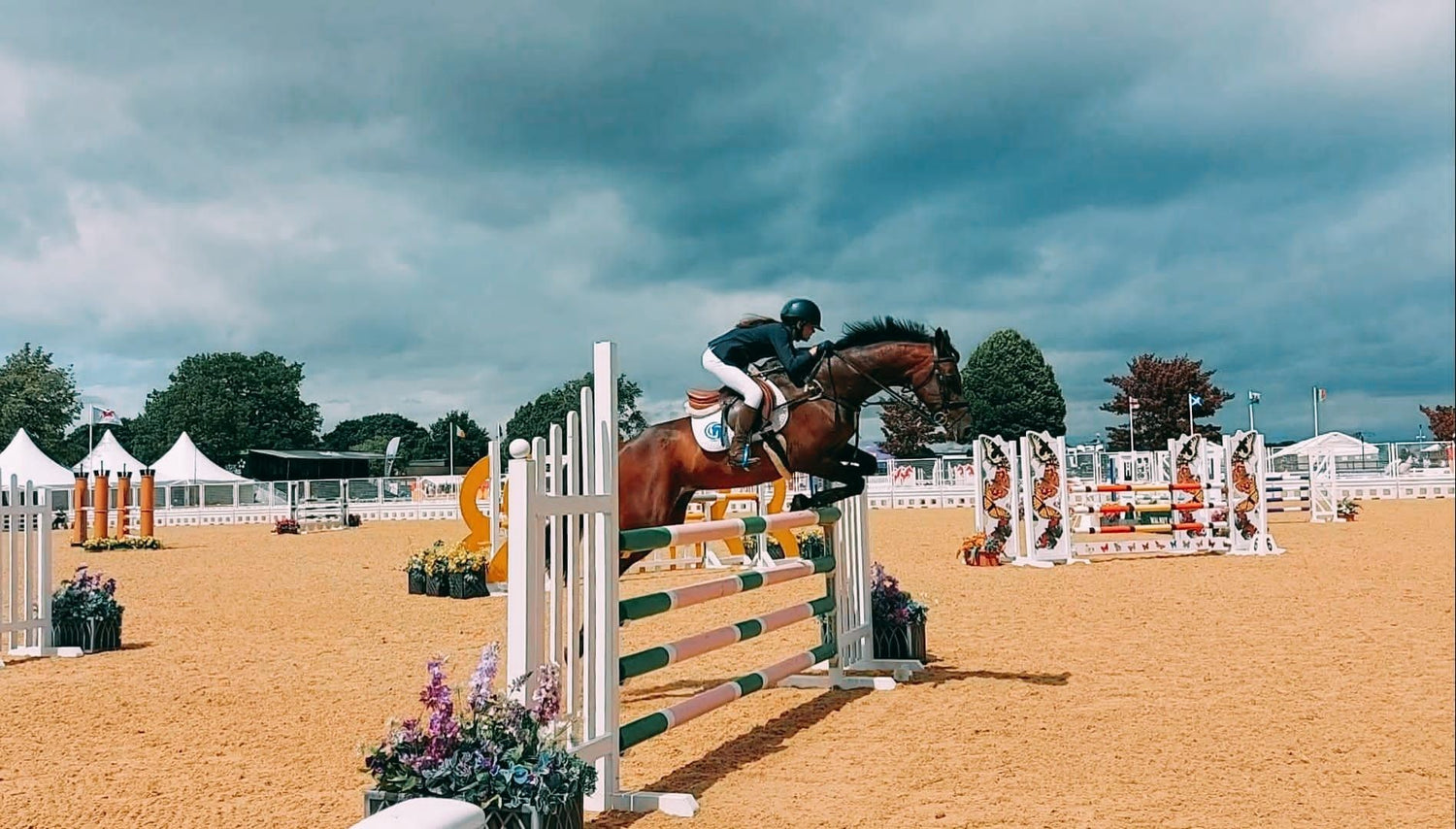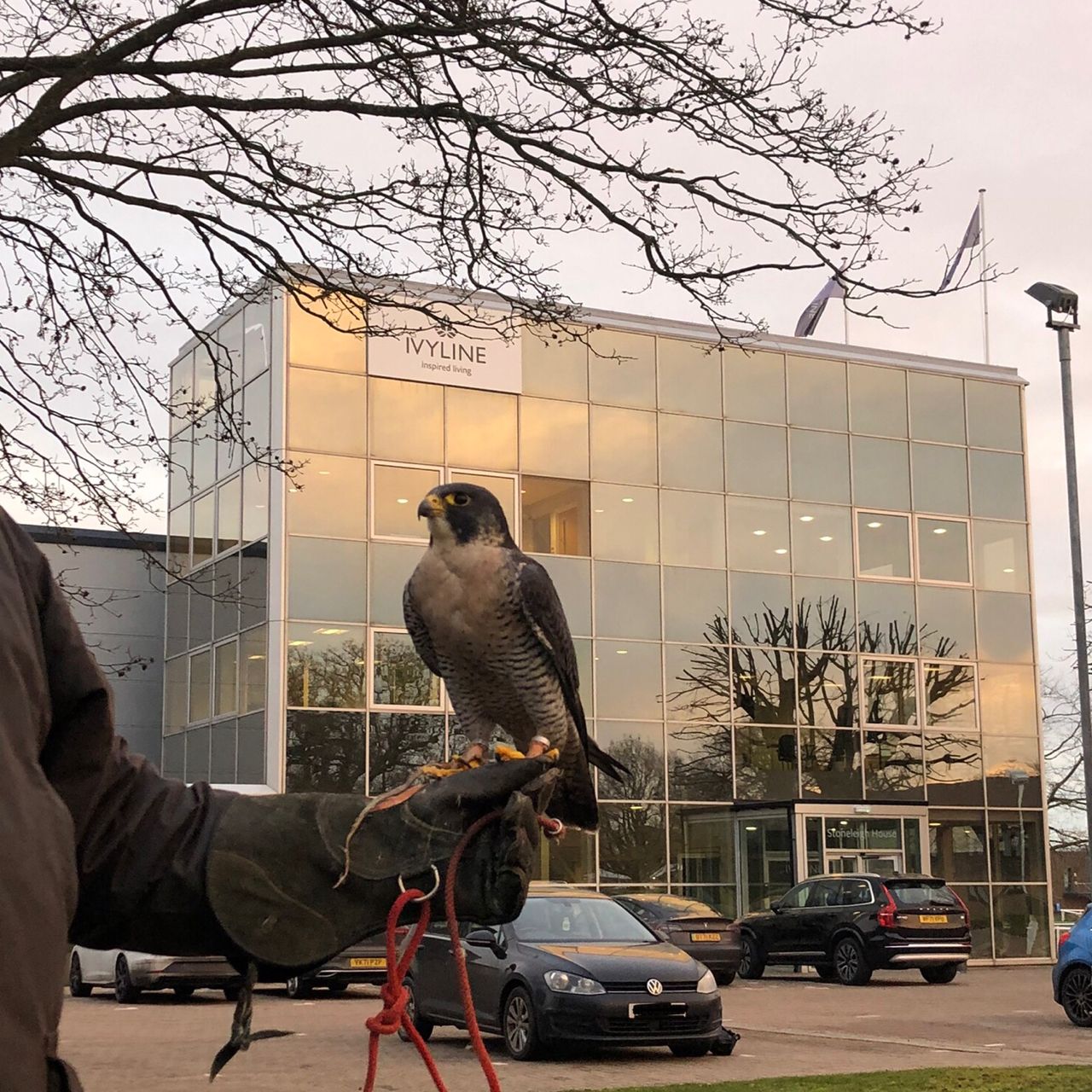 Head Office
Since its founding in 1976, Ivyline takes a design-led approach in curating its ranges taking inspiration from the city lifestyle trends as well as the striking countryside around us.

Based in the heart of the beautiful Warwickshire countryside, we're lucky to be surrounded by a stunning rural landscape, nestled amongst the rolling hills, green spaces, and ancient trees.

Located on the Stoneleigh Park estate, there's always a hive of activity going on. From showjumping championships, dog, cat, and car shows, the glamping show, and an occasional visit from a friendly falcon on a training exercise – there's never a dull moment for our lunchtime walks!
Meet the head office team
Our dedicated team works passionately throughout the entire production process, from initial design to eventual dispatch, ensuring you get the beautiful, high quality and trend driven products to bring your home and garden to life.


Scott Thomas, Managing Director

Making an early start to review the market and company goals, Scott has nailed productive mornings to bring the best to his team. Adding to the general good humour in the office, quiet is not his thing unless he's analysing your personality!

Scott loves to see his customers thriving, creating products that wow and providing service to take them to the next level.

Humphrey Thomas, Senior Director

Keeping Ivyline compliant and profitable, Humphrey's extensive knowledge of all areas of the business is vital to making sound financial decisions every day. With a fondness for tweaking areas of operation to boost profitability, he approaches his role with a blend of caution and optimism.

Whilst conservative in forecasts, climbing Snowdon overnight is one of Humphrey's more adventurous achievements!

Ben Robbins, Finance Director

With a passion for numbers and a focus on getting under the skin of what makes the business tick, Ben loves nothing more than delivering a financial strategy to help drive the business forward. With over 15 years of experience in accounting and finance, Ben has experience in an array of industries from automotive and manufacturing to life safety and compliance. Preferring to go and speak to people rather than send an email, Ben loves to connect with people across the business.

But when he's not crunching numbers, you'll find Ben playing football or cricket, teaching himself guitar or running after his daughter, Bunty.

Chris Owen, Sales Manager

With over 10 years of experience in the horticultural industry, there aren't many people that Chris doesn't know with his in-depth knowledge of the UK garden centre market. With a keen eye for growing businesses and a focus on building relationships with key accounts, Chris loves to oversee all aspects of sales.

But when he's not chasing up leads and chatting to customers, he can be found chasing after his 3 year old son or on the golf course adding to his collection of golf balls from across the world!

Dan Bird, Technologist

With over 20 years in quality assurance, Dan is the man for the job of evaluating new products for quality and safety, defining our technical and ethical requirements for suppliers, and then making sure they meet them. Dan loves nothing more than ensuring our products are of the highest standard possible, whilst also improving our systems for supplier approvals. Outside of work, Dan has a passion for gardening and home improvements, plus also caring for his fleet of cats, Joey and Phoebe!

Daniel Walat, Transport Manager

With several years of experience in supply chain and customs, Daniel is a key player in getting the stock you need, when you need it. But he doesn't just know his stuff when it comes to Transport – a self-proclaimed "sponge" of knowledge, Daniel is full of interesting facts and figures that he can pull out at any given moment! When he's not busy at Ivyline, Daniel is busy planning his next trip away with his wife or getting into his next read after a long walk with his German Shepherd.

Delwyn Cook, Business Development Manager

Passionate to a fault about Ivyline's range of stunning products, Delwyn would love nothing more than to show you the latest range! Combining a love of socialising and meeting new people, getting out and about to see clients and prospects comes in a close second to holidaying in exotic, photograph-worthy locations in his eyes. If you need a quote or want to view the latest 'fresh inspiration' - you know who to call!

Fiona Stapleton, Category Manager

With over 6 years of experience as a Buyer, Fiona helps Ivyline to stay on trend with our unique designs and product offerings. Taking inspiration from her own wardrobe palette (just wait and see our new Lisbon colours for 2023!), Fiona has an eye for Pantones that will set us apart from the rest. But when she's not discussing her favourite pastel Pantone, she'll be telling us about her favourite dish, or convincing everyone that "a life without cheese, is no life at all!". Happiest when cosied up with a brew watching a thunderstorm, Fiona is always up for a chat or a giggle in the office!

Harland Haughton, Supply Chain

Organised, efficient and dedicated - Harland is an obvious fit for the Ivyline crew.

Words like focus, lists, prioritising and goals are what he throws around the office on a usual day - and it's a good thing, since it's his job to ensure we have the stock you need, when you want it.
If Harland's not at work, he's likely at the gym - working on another of his goals!

Hugh Gardner, IT Co-ordinator

Hailing from the equestrian industry, Hugh likes to build solid relationships with his team, customers and suppliers, meaning he excels in his role as IT Co-ordinator. He's on the quieter side, but you may be surprised at what he knows since he confesses he has a head full of 'useless' knowledge! And, with a love for all things edible, Hugh's the one to ask about the best foodie spots in town.

Iona Parry, Independent Account Coordinator

Iona loves nothing more than catching up with our customers and helping to pull together product ranges that will help to compliment their stores and online offering. Organised to a tee, Iona loves a plan of action, that she will no doubt follow through to the end!
With a great sense of humour Iona loves to chat with everyone, colleagues or customers, and her infectious laugh will be sure to put a smile on your face! But when she's not selling Ivyline's beautiful products, she'll be out walking, or training her gorgeous Labrador, Willow!

Jenna Sloan, Accounts Admin Assistant

Jenna loves nothing more than smashing through aged debt targets and ensuring she's ticking off her organised to-do list. Jenna is a friendly and reliable member of the Finance team who is always happy to help and lend a hand with her 18 years of experience in customer service and debt collection.

But outside of Ivyline, Jenna is happiest exploring the world with her family. Whether it's hiking up Snowdon, coasteering along the Welsh coast, or transporting her teenage boys to weekend rugby games, she's not sitting still for long!

Jess Pulman, Key Account Coordinator

She's a photoshop aficionado, so it makes sense that Jess is the creative one of the bunch. With a bubbly, positive nature she likes to have a go at anything that comes her way - and she gets everything done with her organised and methodical approach. You may pass her by on a walk by the coast with her Yorkie Pippa, cycling in the country, or at the gym.

Kate Hales, Sales Administrator

The one who swiftly processes your orders, Kate prides herself on emptying the inbox each day. Helping you out is always a highlight, and if you hit on the right subject she'll have plenty to say! She's bubbly and full of fun, and dedicated to powering through her task list in a methodical fashion. With 2 young children to keep up with, efficiency is key - meaning more time for the things Kate loves - going out for dinner, watching films and spending time with family.

Kiren Mann, Assistant Management Accountant

An asset to the team, yet a high achiever in her own right, Kiren takes care of the financial aspects of the company with skill! She has what it takes to create invoices, pay the bills and chase the creditors - being a reliable and hard-working member of the team. If you hear some good laughs next time you're in the office - follow the sound - chances are, it will lead you to Kiren catching up with a colleague!

Louisa Swindle, Product Designer

With a diverse background in designing useful, safe or beautiful items - or sometimes all three, Louisa loves to combine great ideas with a practical human-centred approach. She's the one behind the stunning ranges landing at Ivyline - turning ideas into sketches, then 3D CAD models...and ensuring the end result is a beautiful, functional garden accessory! When she's not obsessing over design details, multi talented Louisa can be found walking Buzz, her Labrador, growing roses and restoring old houses.

Marija Snape, Brand Manager

Marija has been with Ivyline for over 6 years and has helped the Ivyline brand become what it is today. From brochures, photography, and styling, Marija loves anything visual. Well organised and methodical, if Marija is in charge of a project you know it'll get done efficiently - and with a smile!

Happiest by the water, Marija loves to explore hidden beaches around the coast with her husband and their gorgeous Chow-Chow, Ted, but is always looking forward to the next rainstorm to watch by the fire!

Martha Bowen, Marketing Lead

Marketing and Martha go together like cheese and crackers. She thrives on creativity, but you'll also find her getting stuck into the stats and figures behind each campaign.

In a meeting or out and about, Martha's phone is always at the ready to capture any ideas begging to be turned into some snazzy Ivyline marketing! If you want a giggle, throw in a "Dad Joke", and don't forget to ask about her family's pet chickens - Martha's favourite.

Megan Orr, Office Administrator

Helping customers with a cheery tone and a smile, Megan is the first point of contact for our customers needing help. Her favourite part of the day is solving customer queries and loves nothing more than getting to the bottom of an issue!

Despite cycling 14 miles to work and back everyday, Megan is never sitting still for long and is always looking for her next adventure! Happiest when walking or swimming, Megan also has a degree in Nutrition and is a wizz in the kitchen – make sure you try her cookies!

Nicole Goldstein, Customer Service Team Leader

Above all she's organised, creating and completing tasks like a pro! Nicole is also a customer service aficionado - tweaking and changing systems so you have a seamless and enjoyable Ivyline Experience. She's perfect for the job - always sporting a smile and up for a chat, caring and kind to all. And, if you're a fellow foodie, Nicole is keen to try your favourite recipe.


Parys Bell, Marketing Coordinator

A keen team player, Parys loves working with the rest of the Marketing team to build our bank of Ivyline marketing assets. She loves an organised to-do list to work through to get her creative juices flowing, and has a keen-eye for detail on Photoshop.

But she's never sitting still for long! Parys loves being out and about with her friends and family, whether it's exploring the UK countryside, getting stuck into one of her many team sports, or on the lookout for the next photo opportunity – but don't worry, she'll always catch your good side!

Ruby Nelson, Product Development Support

A key player in the Product Development team, Ruby ensures that all product information and samples are present and correct for brochure releases, customer enquiries, trade events and photoshoots. Ruby loves a daily to-do list to organise her workload, but she will always find the time to help the team if needed!

A real bookworm, Ruby loves getting lost in a good book (her favourite is The Scarlet Pimpernel!), but loves spending time with her friends and family.

Fun fact: She's obsessed with milk!

Saskia Cook, Dispatch Coordinator

Monitoring shipments, ensuring customer orders are fulfilled and updating tracking details, Saskia's daily to-do list is a long one! But this doesn't faze her as she loves a structured and organised task list to work through. With over 2 years of experience in Customer Service, Saskia is an integral part of the team and loves nothing more than resolving shipment and inventory issues, should they arise.

She may seem quiet to begin with but ask her about her time growing up in Canada and she'll be chatting away for hours…after her morning coffee, of course!

Fun fact: She's on a mission to learn 2 new languages in the next 2 years!

Sienna Thomas, Sales Support

Sienna is a key player in the Sales team, working behind the scenes to ensure we continue to provide a first-class service to our customers.

A chatty and helpful member of the Ivyline family, Sienna loves to meet new people but, a perfectionist at heart, she always ensures she doesn't miss anything off her to-do list.

When she's not at Ivyline, Sienna will be on the hunt for the next indulgent recipe to try out…we're all looking forward her bringing in one of her Ferrero Rocher cakes or Biscoff Cookie Cups! 

Stacey Davison, Finance Administrator

With over six years of experience in accounting, Stacey is a real asset to the team looking after all aspects of Finance. Day-to-day tasks are focused on purchase ledger and assistant management accounting, but Stacey is always ready to help the team where she can with a smile! A real foodie, Stacey is always on the lookout for new places to eat and explore with her gorgeous French Bulldog.

Tony Joyce, Commercial Manager

Got a question? Ask Tony! At least, that's what they say around the office! Tony is a long-term fixture at Ivyline, with a broad spectrum of experience across departments - from sales and marketing, to his current role in Supply Chain Management. This seems to be his forte, as he works his magic solving problems before they arise and ensuring product is where it needs to be, when it needs to be.